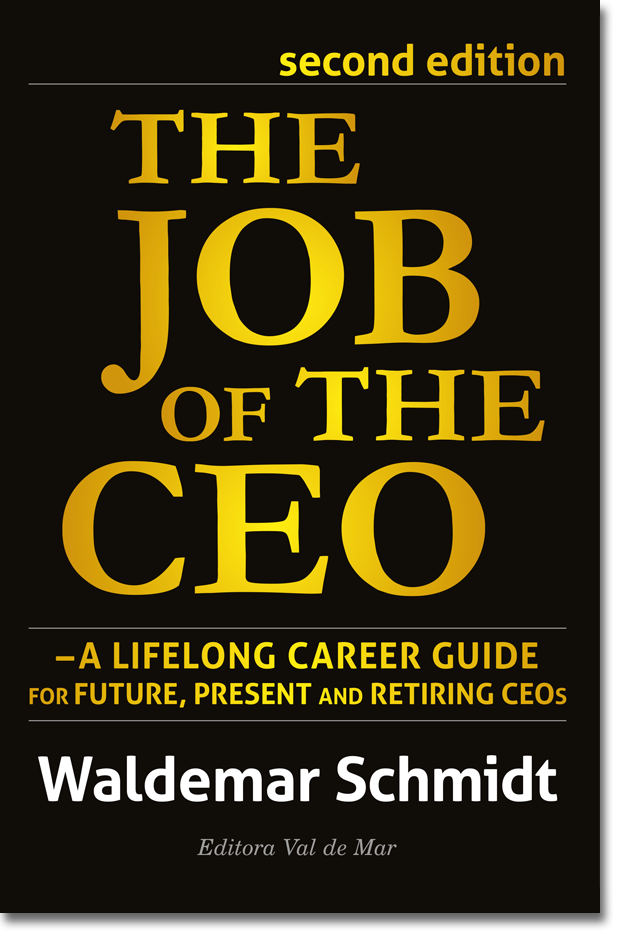 A lifelong career guide for:
THE JOB OF THE CEO
is about how to:
Free Chapter: Self-Assessment CEO Tests
---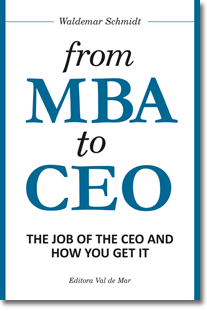 From MBA to CEO is a practical and easily followed manual to inspire you throughout your career the author has made it from local boy to Group CEO of a very large and well-respected global service company.
From MBA to CEO will inspire you to plan and execute your career dreams.
Free Download: Chapter 4 with 7 Self-Assessment Tests
---
About the author
WALDEMAR SCHMIDT got his first CEO job when he was 29 and progressed to become CEO of ISS, the Copenhagen-based facility services group that is amongst the largest corporate employers in the world. During his long career at ISS, Waldemar held positions from Country Manager/CEO in Brazil to CEO of the global group.
Waldemar is born on 4th July 1940 in a small town in Denmark. He has lived and worked outside Denmark most of his working life in Italy, Brazil, UK and Switzerland; and has been involved with business on all continents.
Waldemar surprised many when he resigned early from his final CEO job to start a second full-time non-executive career, holding a variety of positions, including chairmanships and directorships of more than 20 private and public companies on three continents. He is also a prolific writer and lecturer, and is an adjunct professor of strategy and service leadership at Copenhagen Business School. He was inspired to write his third book FROM MBA TO CEO after having taught leadership to MBA students at leading business schools for a number of years.
He has been an executive-in-residence at IMD in Switzerland where he undertook a research project that resulted in his first book, WINNING AT SERVICE. He is also co-author of THE NØRBY REPORT—a study commissioned by the Danish government to establish the first guidelines for good corporate governance in Denmark.
In 2012 Waldemar started his third career with a portfolio of chairman and non-executive roles; investments in start-ups in emerging and European markets, speaking and teaching activities, advisory roles, Goodwill Ambassador for Copenhagen, etc.
Whilst managing ISS's business in Brazil, he received the Danish Export Oscar. In 2000, the Queen of Denmark awarded Waldemar Schmidt the Order of the Knight of Dannebrog and promoted him to Knight of Dannebrog 1st Degree in 2008. In 2006, he was awarded the Order of the Polar Star by King Carl XVI Gustaf of Sweden.
The royalty income from the sale of THE JOB OF THE CEO will go towards Waldemar Schmidt's scholarship for foreign MBA students at CBS–Copenhagen Business School.